For a tutorial on downloading and printing digital files, please click here.
Step 1: Unzipping Pattern Downloads
Our digital patterns are delivered as zip files containing multiple PDF files. On most computers, you can simply double click the file to unzip it (you can look up a tutorial specific to your computer if you run into trouble unzipping the file).
If you are using a mobile device, you may need a third party app to unzip the file. WinZip is a free app that can handle this for you; search for it on your Apple or Android app store.
Step 2: Opening and Printing PDF Files
When your pattern is unzipped, you will use a PDF reader to open and print the files. Adobe Acrobat or Adobe Reader are commonly used, but we recommend Preview for Mac users (preinstalled on every Mac) and the free Foxit Reader for Windows users. You cannot open and print PDF files in Microsoft Word or other word processors.
Error Messages
If you receive an error message, please email us with the following:
What is the exact wording of the error message? (Feel free to send a screenshot)
Which PDF reader are you using?
Are you using a computer or a mobile device?
Which pattern is giving the error?
Printing Errors
Always double check the measurement of the test square on your pattern before printing the entire pattern. If the test square is not printing correctly, double check your printer settings. Make sure all scaling is turned off and the document is set to print at actual size. Read more about this issue here.
It has recently come to our attention that windows users with newer HP printers are having trouble printing "non-standard" fonts from Adobe. This causes pages to only partially print. If this is happening to your printer, you will need to check "print as image" under the advanced settings. Note that the print settings require color printing, if grayscale is selected you will not be able to print as image.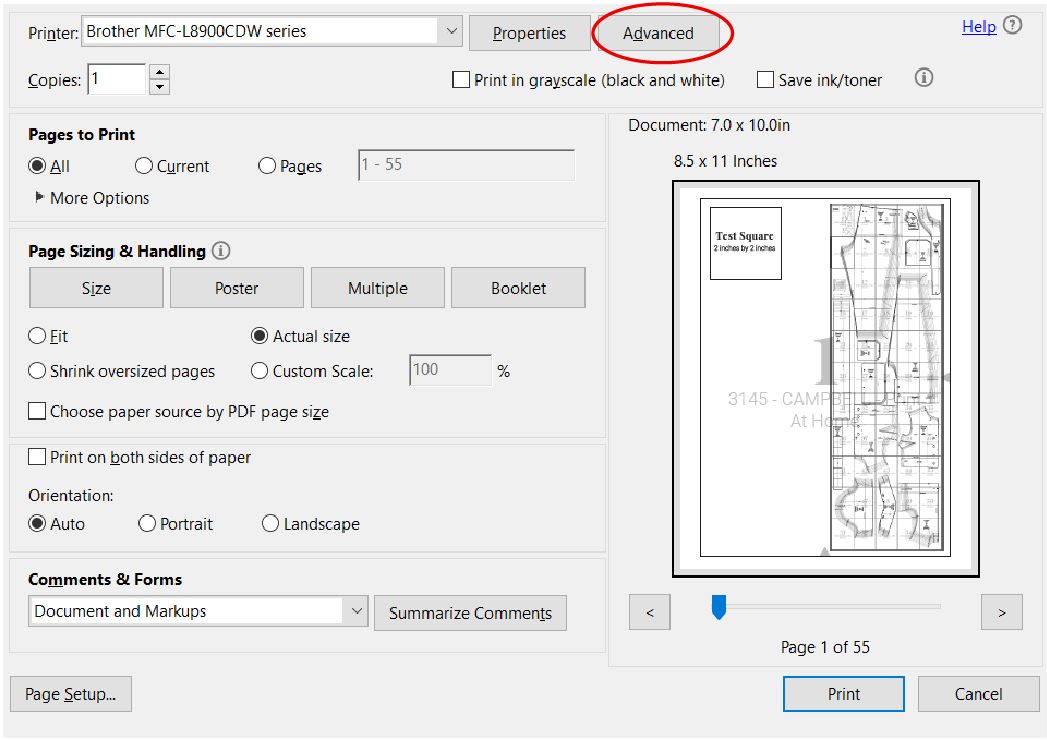 If the borders on the page do not print, check your printer settings one more time. If you are using Adobe, make sure that the box next to "choose paper source by PDF size" is NOT checked. Make sure that the option for "Auto portrait/landscape" is checked.
If you continue to experience trouble with the borders or triangles, please try printing from Preview (Mac) or Foxit Reader (Windows). This will bypass any issues specific to Adobe.