Most of our patterns include two different size ranges: misses and curvy. This means that you can choose a pattern in misses sizes 0-16 (XS-L) or curvy sizes 18-26 (XL-XXXL) and print only that size range. Our patterns include both layouts.
Sizes 0-16 are drafted for a C cup and sizes 18-26 are drafted for a DD cup.
Why are these changes being made?
We are making these changes for several reasons.
Readability: Our patterns have a very inclusive size range. Layouts that include all sizes can be difficult to read and to cut. Having fewer sizes on each layout means we are able to include more markings and information without the pattern becoming unreadable.
Our patterns are designed to include different body types: Our curvy range is designed to fit a curvy body with a larger cup size and hips, and our misses size range is designed to fit a somewhat less curvy body type. Both these body types are based on anthropometric data in order to create the best fit at any size.

We can customize the fit: Separate versions for each size range allows us to include small feature changes to the patterns and instructions that are best suited for each size range. For example, one design might fit better on a larger cup size if it has a dart added. With separate layouts and separate instructions, we can make this tweak to provide a better fit, including modified instructions.

To save paper! If you only print the sizes you need, you'll save paper.
Why can't the size ranges be drafted the same?
The process of drafting both size ranges is exactly the same, but each size range is created from a different starting point, using a separate block, fit model, and fit process. By using blocks for different body types, we are able to get the best fit for both size ranges.
How do I blend between the size ranges?
Although it's possible to blend between sizes, we recommend that you start with one size range, with the size that most matches your body shape. For dresses and tops, choose the size that matches your bust measurements and cup size. For skirts and trousers, choose the size that matches your waist-to-hip ratio.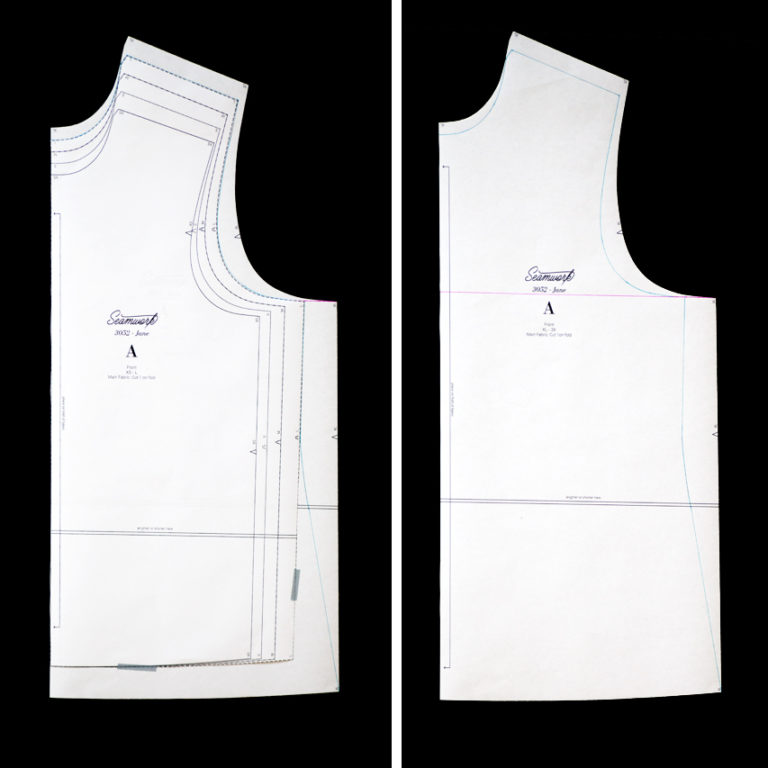 If you want to blend between the size ranges, cut along the cutting line of each size you will be blending. Align the two pattern pieces either at the waist, end of armhole, or center front/back, with the smaller pattern piece on top of the larger pattern piece. Tape in place. With a curved ruler, trace the base pattern and blend to the other size. For more help with blending sizes, click here.
If I need both size ranges, do I have to print two patterns or buy two patterns?
If you purchase a printed pattern from our shop, you can also download a digital pattern that includes all sizes. This allows you to print any sizes that you do not have in your printed copy.
Digital patterns include both size ranges. If you'd like both size ranges, you will need to print them individually. We also include a wide and A0 format that can be printed at your local copy shop.
Will this change be made to past designs?
We don't have plans to change past designs at this time.